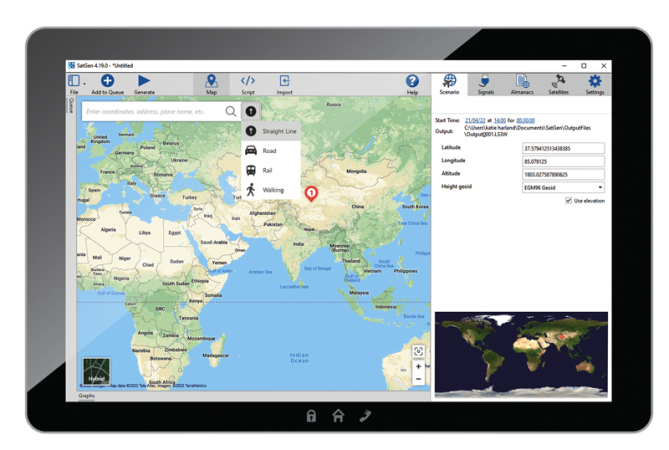 SatGen GNSS Simulation Software
Simulate with SatGen, Replay with LabSat
Create custom scenarios to test your GNSS device or application at any set time, date, speed, route and location.
Single, dual, triple, multi-constellation & real-time
Wideband GNSS signals in the upper & lower L-Band
Compatible with all LabSat systems

Inbuilt Route Mapping

User-friendly UI

Ready-to-use Test Scripts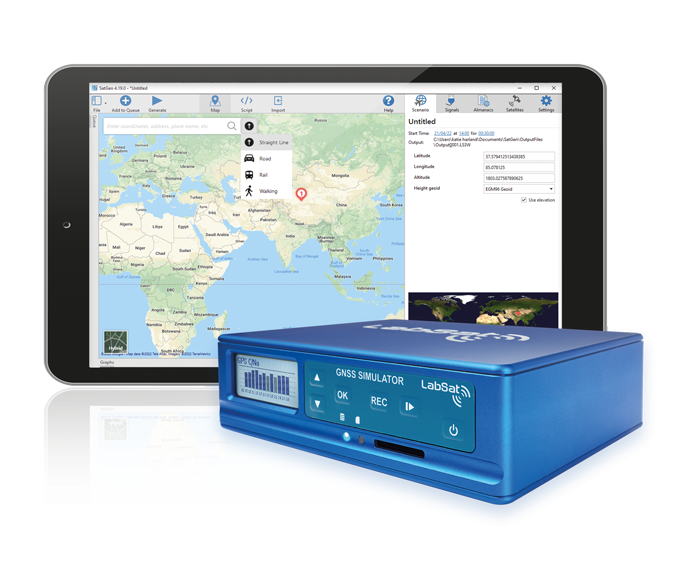 Almanac Control

Multiple Output Formats

Waypoint-based Testing
What signals can I simulate?
Depending on the software variant and the LabSat used for replay, you can simulate the following GNSS signals: 

SatGen Single Constellation
GPS L1
Galileo E1
GLONASS L1
BeiDou B1

SatGen Dual Constellation/ Real-Time
GPS L1
Galileo E1
GLONASS L1
BeiDou B1

SatGen Triple Constellation
GPS L1
Galileo E1
GLONASS L1
BeiDou B1

SatGen Wideband
GPS L1 C/A, L1P, L1M*, L1C, L2C, L2P, L2M*, L5
Galileo E1, E5a, E5b, E6
GLONASS L1OF, L2OF
BeiDou B1I, B2I, B3I, B1C, B2a, B2b, B2b-PPP
NavIC L5 & S-Band
*Noise only
How does SatGen work?
SatGen software helps you to create GNSS test scenarios that mimic the signals transmitted by real GNSS satellites. These scenarios can be replayed with any LabSat, allowing you to evaluate the performance and reliability of GNSS receivers and applications in a wide range of settings and conditions. In a few steps you can create, define and generate a GNSS simulation that you can replay again, and again.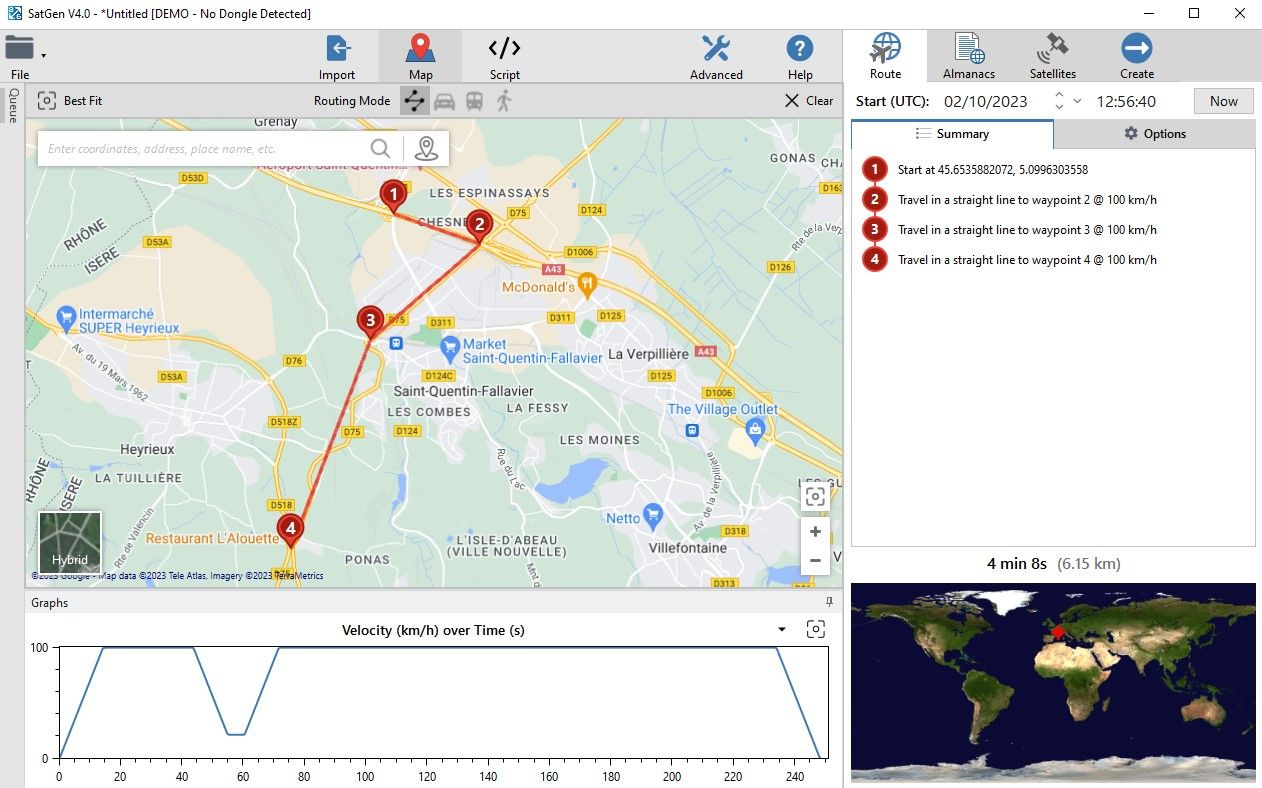 1) Import/Create Route
Creating GNSS simulations with SatGen is easy.
If you have an NMEA, KML or VBO file of your route, you can simply import this directly into the software.

A relatively complicated route can be defined in just a few clicks using the in-built mapping tool. Scenarios can include static testing or complex routes with multiple waypoints.
Alternatively, you can create a simulation from scratch, adding your own user-defined commands. A library of pre-defined editable scripting examples is provided.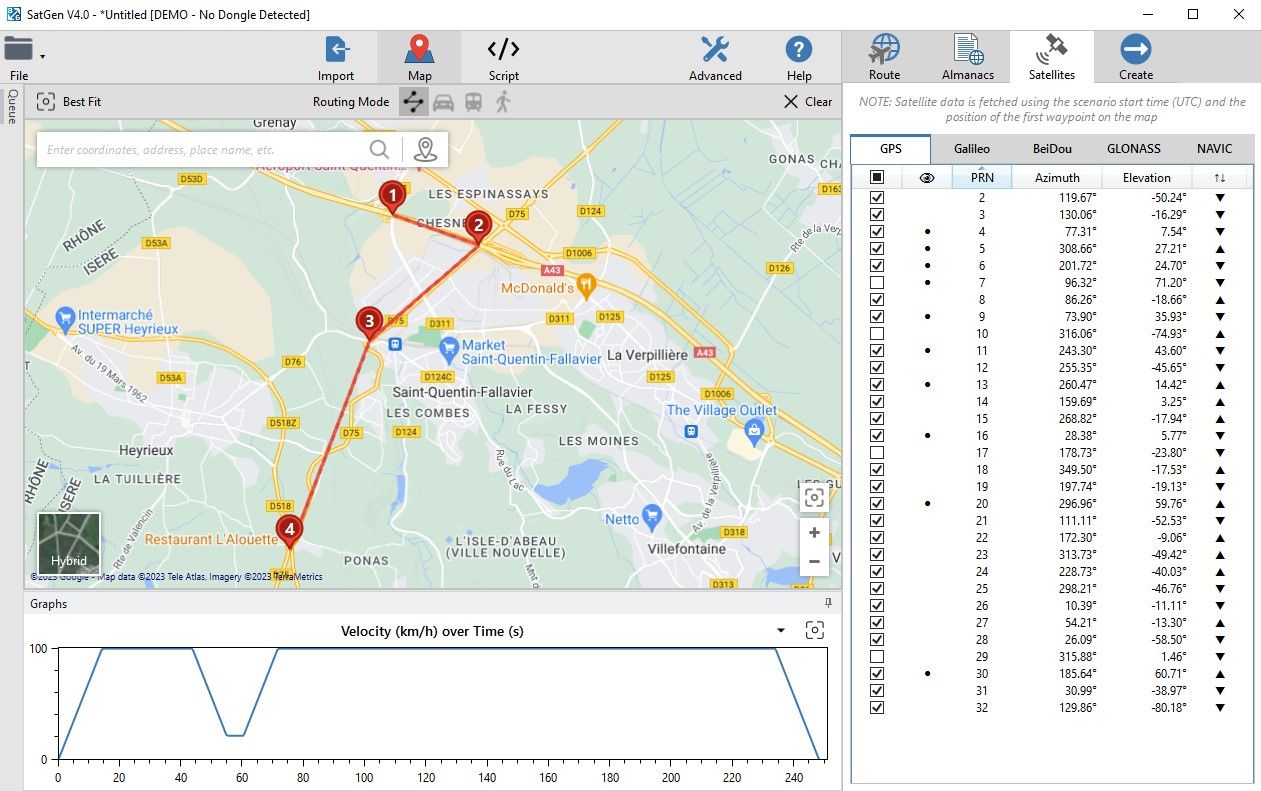 2) Define Conditions
Specify route dynamics, including acceleration levels, jerk rates, speed, or altitude.
Choose between a fixed elevation mask and the true horizon.
Edit custom leap seconds and ionospheric delay parameters.
Apply a geoid or an ellipsoid to your simulation.
Select specific satellites to simulate.
Fine-tune your settings by reducing the signal-to-noise ratio through the addition of artificial noise.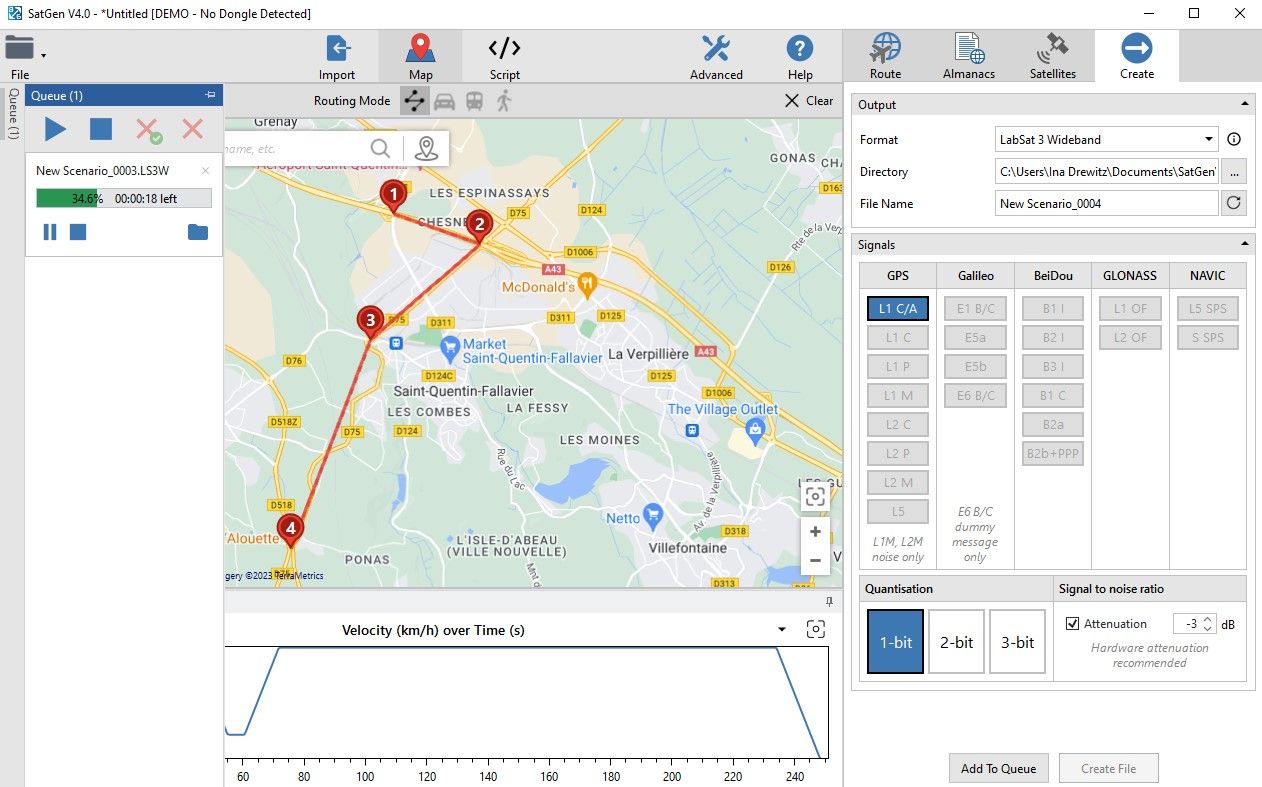 3) Generate Scenario
Leave the software to generate a fully realistic scenario. 
The new SatGen 4 dynamics engine greatly improves the quality and precision of GNSS/ GPS simulations created using the map, with the ability to use road or railway routing in car, train and pedestrian modes.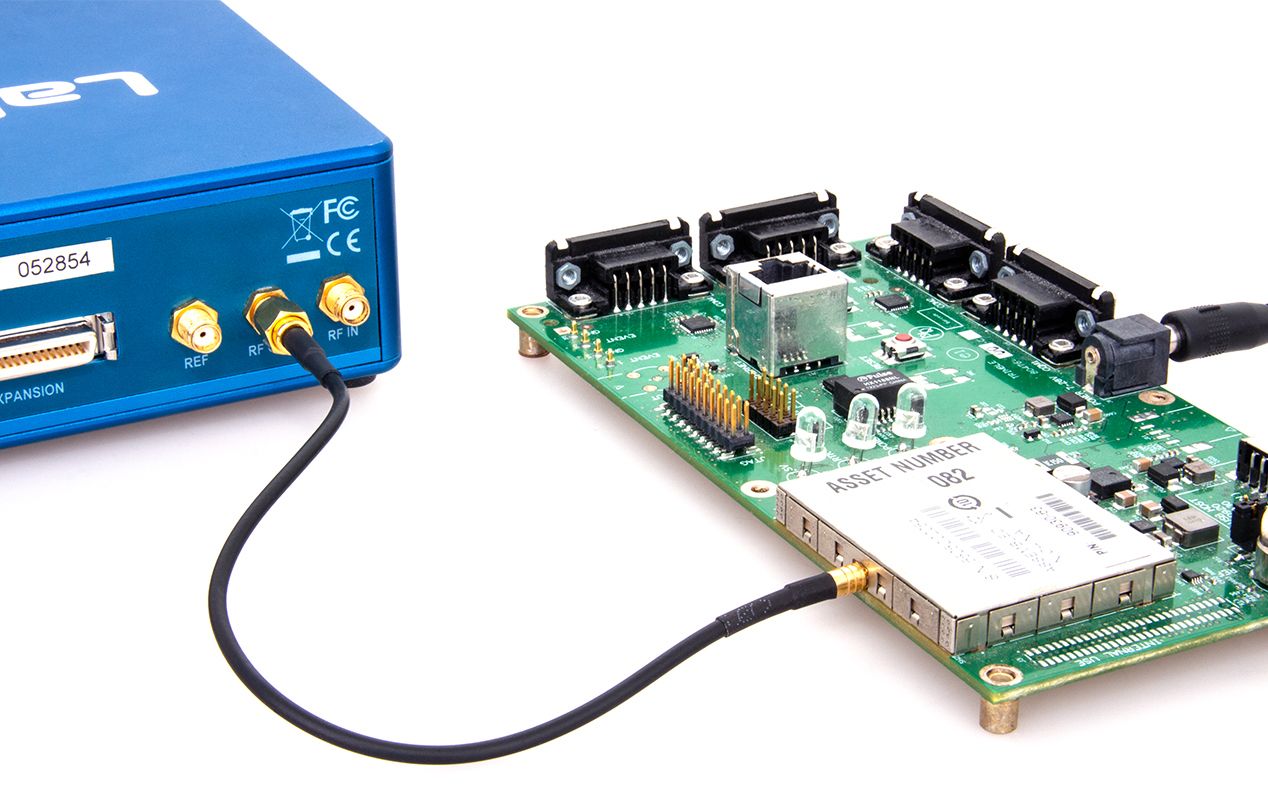 4) Run Simulation
Connect to any Labsat for replay into your Device under Test (DUT). 
  
You can either run the simulation as is, with the time set during scenario generation, or if using SatGen & LabSat Real-Time together, you can run the scenario with the current time stamp, giving you GNSS signals in real-time.
LabSat Real-Time+ will produce a live, low-latency GNSS RF signal that corresponds to the positional data supplied by a third-party application, such as HIL simulator. 
SatGen for Automotive & Transportation
---
Use SatGen GNSS Simulation Software to create bespoke, multi-stop scenarios at the time, date, and location of your choosing.
Multi-stop routes
Navigation and positioning accuracy, efficiency, and route planning are crucial in automotive simulations. SatGen allows you to create bespoke, multi-stop scenarios at the time, date, and location of your choosing. You can queue and automatically run consecutive scenarios.
Waypoint-specific customisation
With the new waypoint specific features in SatGen 4 you can easily define speed, delays and apex distance limits for each waypoint you set.
Constellation information at the first waypoint
Having access to detailed constellation information at the first waypoint, such as the number of satellites in view, their azimuth, and elevation angles, means you can conduct tests with greater precision, reduced testing time, and ultimately, a more successful and efficient testing process.
Visual route creation
The intuitive mapping tool helps you ensure that the test route accurately reflects real-world driving conditions, including roads, intersections, and specific points of interest. It also allows you to simulate a wide range of driving scenarios, with route dynamics like Car, Rail, Bicycle or Pedestrian being automatically populated when used with Google Maps.
Quick location search
There's no need to know specific coordinates, you can search a location by name or address for quick navigation.
SatGen for Space
---
Create customized GNSS simulations for launch, in-orbit and re-entry trajectories, at the time, date, and location of your choosing.
No limits on speed or altitude 
SatGen can be employed to assess space qualified receivers which play a critical role in providing accurate position, navigation, and timing for spacecrafts and instruments operating in space. You can easily create a GNSS simulation from a trajectory, including any speed and altitude, up to geostationary orbit. This is ideal for simulating rocket launches, CubeSat deployments, satellites, or space probes. 
True horizon elevation mask 
The true horizon elevation mask mode within SatGen calculates the horizon's position from each point in your trajectory and increases the number of visible satellites accordingly.
Atmospheric model  
SatGen has the option to add ionospheric and tropospheric delays to the simulation. Understanding these delays can help ensure accurate position determination and trajectory control when designing missions involving space vehicles. 
Leap Seconds  
You can also include past leap seconds or add a new leap second into your scenario to ensure that spacecraft systems remain synchronized with ground-based time standards. 
Trial Today
---
Try SatGen for free
Experience the full power of the SatGen Simulation Software with a demo version that allows you to trial all features in your own test facility.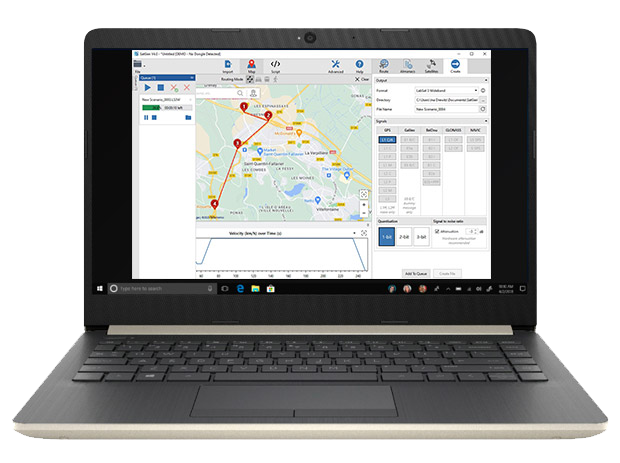 You will receive a full copy of the SatGen software, which is restricted to GPS-only scenarios (no other constellations) up to a length of 120 seconds.  
Simply complete this short form and download the demo today. For more information on SatGen please contact your local LabSat distributor.
Speak to a LabSat expert?
Contact us today to discuss your requirements.
One of our in-house experts will be in touch within 48 hours.
Product Support?
Access quick start guides, user manuals, system architecture plans, explainer videos, the knowledge base and more.