LabSat Product Overview
All our products integrate seamlessly with wider test system set-ups.
The LabSat product range – starting at single channel (L1), replay only and ranging up to multi-frequency, record and replay – ensures you can select the model best suited to your requirements without paying for capabilities you don't need. If you require real-time testing, LabSat Real-Time generates GNSS RF signals with a current time stamp anywhere in the world, whilst our SatGen Simulation Software will create bespoke scenarios for any time, date, and location of your choosing.
GNSS Simulation
Other Software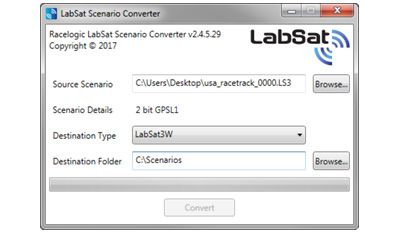 Scenario Converter
Play old scenario files on new hardware
Convert LabSat scenario files to different formats
Convert (*.bin), (*.ls2), (*.ls3) files
Safe and secure file format conversion
FREE
Other Software
LabSat Extensions
GNSS Monitor to display scenario NMEA
Video sync with scenario position
Serial proxy for control of USB ports
Turntable control module
Turntable module USB to CAN
Turntable module speed pulse generator
FREE
Speak to a LabSat expert?
Contact us today to discuss your requirements.
One of our in-house experts will be in touch within 48 hours.
Product Support?
Access quick start guides, user manuals, system architecture plans, explainer videos, the knowledge base and more.