LabSat 3
Racelogic's compact yet powerful multi-constellation GNSS device testing system
3 constellations
8 simultaneous signals
9.66 MHz bandwidth
4 bit resolution
Fully standalone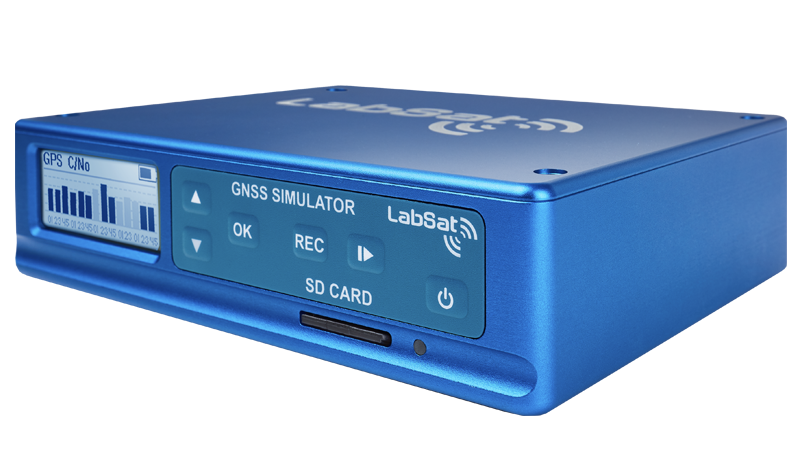 The easiest way to record and replay GPS/GNSS signals right from the palm of your hand
The most affordable, portable, and versatile multi-constellation Global Navigation Satellite Simulator on the market.
If you are selling, testing or developing products incorporating satellite navigation chipsets, then you'll find LabSat 3 makes your job easier, quicker and more cost effective.
Small, battery powered and simple to operate, LabSat 3 allows you to quickly gather detailed, real world satellite data and replay these signals on your bench.
LabSat 3 can be configured to record and replay combinations of the following signals:
GPS: L1
GLONASS: G1
BeiDou: B1
QZSS: L1
Galileo: E1
SBAS: WAAS, EGNOS, GAGAN, MSAS, SDCM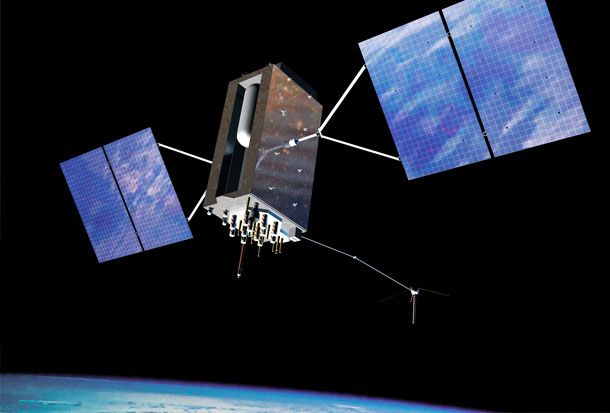 Versatility
LabSat 3's intuitive interface and compact design makes it the perfect tool for record and replay of GPS/GNSS constellations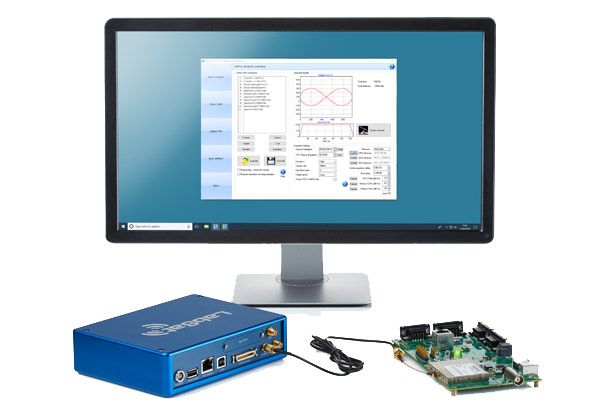 In the Lab
LabSat 3 allows you to quickly gather detailed real world satellite data and replay these signals on your bench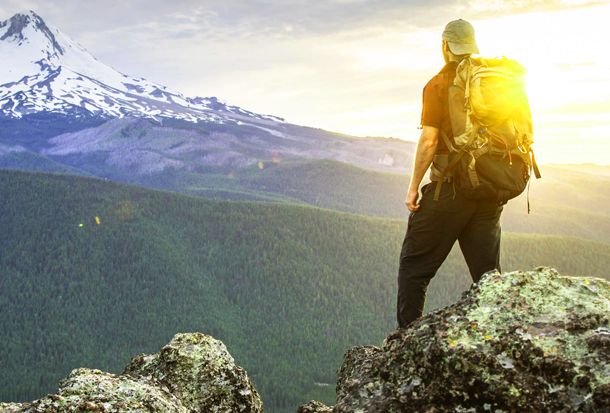 In the Field
Compact and portable, LabSat 3 fits in a backpack and records RF signals anywhere in the world with ease
Easy to use
LabSat 3 is simple to use and requires no specialist training

Portable
Compact and lightweight for use in and out of the lab

Multi-Constellation
Record and replay the major GNSS RF signals
Internal Monitor
LabSat 3's internal monitor keeps track of RF signals


API Available
A developer API is available so you can design your own customised software controller for your LabSat 3
Fully Standalone
Use straight out of the box; LabSat 3 even comes with a pre-recorded library of simulations

Internal Battery
LabSat 3 can be mains powered but also comes with internal battery providing 2 hours of use
External Signals
Record an array of external signals such as CAN, serial or digital data alongside the satellite signals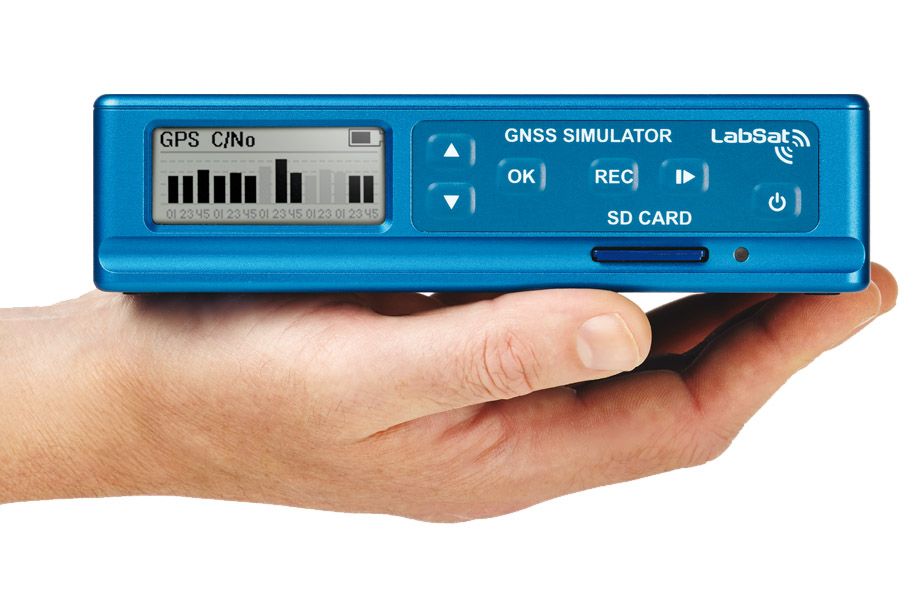 Reliable. Again and again
LabSat 3 gives you the power to create a level benchmark for testing ensuring a highly accurate test plan that replicates real-world GNSS conditions every time.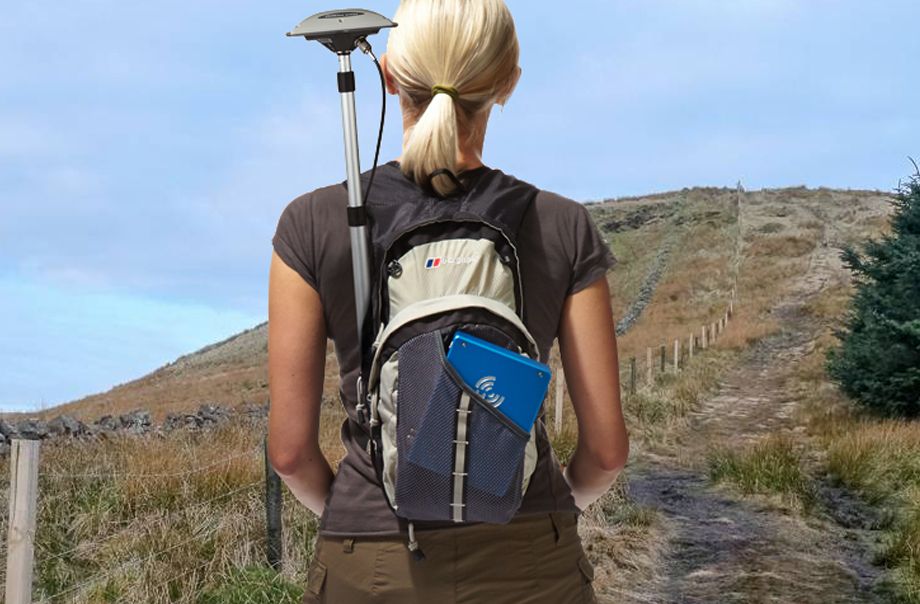 Repeatable. Anywhere. Any time
Create a test bed for your products based on where and how they're likely to be used whether its on a car journey through downtown Tokyo or a mountain trek over the Alps. LabSat 3 will always produce a true representation of satellite constellations wherever the location.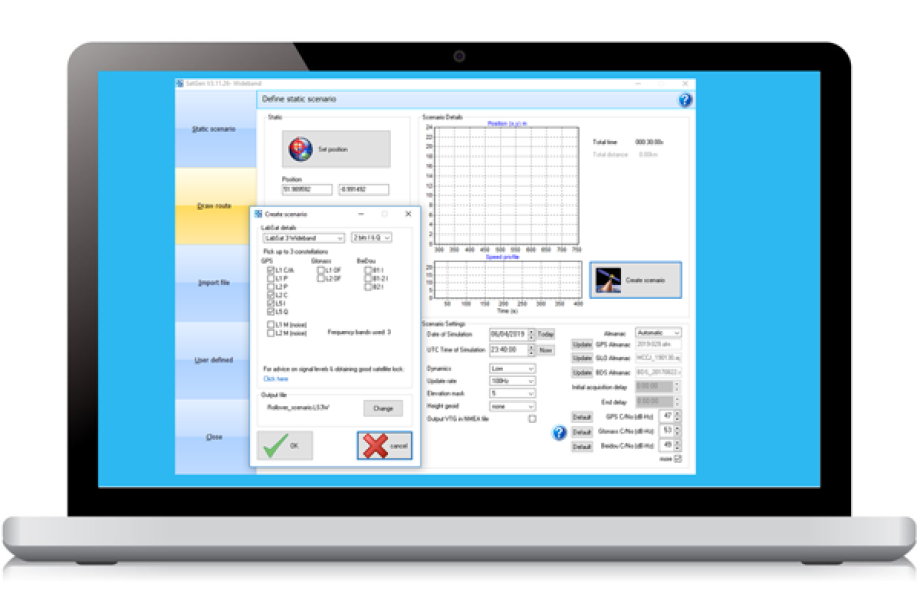 Versatile testing solutions
When used in conjunction with SatGen software, LabSat 3 can reproduce highly accurate simulations for almost any satellite constellation scenario you choose.
Product Specifications
---
| | |
| --- | --- |
| Constellations | GPS/Galileo/SBAS/QZSS, GLONASS, or BeiDou |
| Output Signal Level | Adjustable -73 dBm to -103 dBm |
| RF Channels | 1, 2 or 3 (model dependent*) |
| RF Constellation Centre Frequencies | 1575.420 MHz (GPS L1, Galileo E1, SBAS and QZSS); 1602.00 MHz (GLONASS L1 ); 1561.098 MHz (BeiDou B1) |
| Number of Satellites Observed | All in view |
| Sampling Frequency | 16.368 MHz |
| Bandwidth | 9.66 MHz |
| Quantisation | 1 and 2 bit |
| Data Format | I & Q |
| Additional Logging | 2x CAN, RS232 or Digital (1x CAN, RS232 or Digital for single constellation model with upgrade) |
| Removable Battery Pack | |
| Media Storage Included | 1 TB USB HDD, 32 GB SD Card |
| Active Antenna Voltage Supply | 2.8 to 3.3 V |
| Reference Oscillator Accuracy | TCXO ± 2.5; OCXO ± 0.3 ppm** |
| Reference Oscillator Aging | TCXO ±1; OCXO ± 0.3 ppm/year** |
| Reference Oscillator Stability | TCXO ±0.05; OCXO ± 0.05 ppm/ °C** |
| Operating Voltage | 8 V to 30 V DC |
| Size | 167 mm x 128 mm x 43 mm |
| Weight | 960g (910g without battery) |
* LabSat 3 comes in six versions ranging from 'Single Constellation / Replay Only' to 'Triple Constellation/ Record & Replay' which can be factory upgraded to any other version. All LabSat versions also come with the option of adding the SatGen simulation software.
** All versions of LabSat 3 are supplied with a standard TCXO (Temperature-compensated crystal oscillator). However, an OCXO (Oven-controlled crystal oscillator) upgrade is available. Please contact your local distributor or RACELOGIC office for more details.
LabSat 3 in Detail
This is where you'll find the answers to the most commonly asked LabSat 3 questions. If you require any further assistance please don't hesitate to contact us or visit the LabSat support website.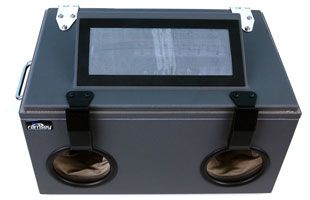 RF shielded enclosure suitable for testing GNSS devices with internal antenna.
Dipole antenna (RLACS219) included.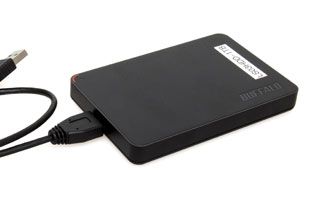 LabSat 3 Scenario Hard Drive
The LabSat 3 USB 1TB hard disk drive (HDD) includes worldwide scenario database of static and dynamic GNSS recordings.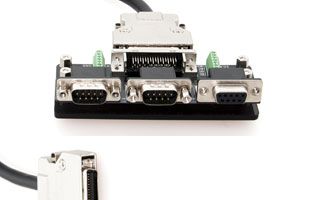 LabSat 3 Locking Expansion Connector
Allows for RS232, CAN and digital data to be recorded/ replayed at the same time as GNSS RF data.
Ensures that a secure lock is achieved during recording in challenging environments.
LabSat 3 Expansion Connector Adapter
Allows for RS232, CAN and digital data to be recorded/ replayed at the same time as the GNSS RF signals.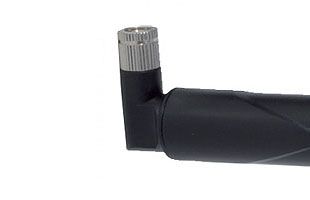 Active GPS antenna
An active right angle antenna suitable for recording LabSat 3 GPS L1 only signals.
Passive GPS Antenna
A passive antenna suitable for record/replay of LabSat 3 GPS/GLONASS L1 signals.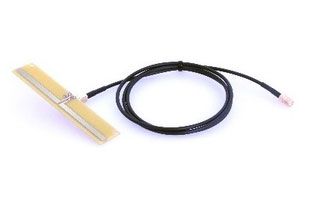 Passive Antenna
A passive antenna suitable for record/replay of GPS/GLO/BDS L1 signals.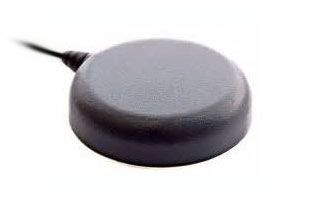 LabSat 3 Antenna
An active antenna suitable for recording GPS, GLONASS, BeiDou, Galileo & L-band correction signals.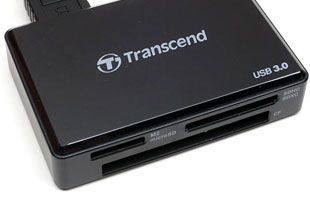 USB 3.0 Card Reader
A professional-level, portable USB reader that provides maximum high speed file transfer. USB interface speed up to 500 MB/s.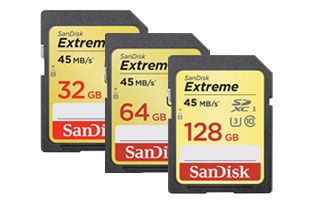 LabSat 3 SD Cards
Available with 32, 64 or 128 GB. Meet the LabSat requirements for read/write data transfer speeds of up to 45 MB/s.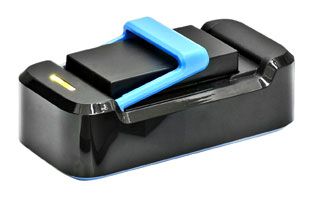 LabSat 3 Battery Charger
A convenient 110/240 volt charger for LabSat 3 internal batteries.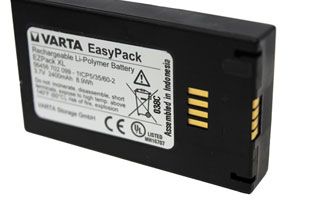 LabSat 3 Internal Battery
High quality 3.7 V 2260 mAh Li-Po internal battery. Rechargeable.
Speak to a LabSat expert?
Contact us today to discuss your requirements.
One of our in-house experts will be in touch within 48 hours.
Product Support?
Access quick start guides, user manuals, system architecture plans, explainer videos and more.