See which benefits LabSat3 has when testing GPS-enabled devices.
The third generation LabSat breaks cover at the ION GNSS expo, September 16th to 20th. The new record, replay, and simulation device represents a major step forward in convenience and portability.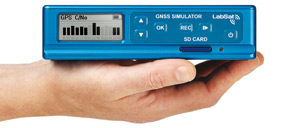 With multi constellation capability and one-touch record and replay, LabSat3 allows developers looking for realistic signal output to record scenarios in the field - measuring only 167mm x 128mm x 43mm, the unit can be easily carried anywhere - for later replay in the laboratory.
Testing and development of new devices can be conducted with total realism and repeatability on the bench. This allows for an accurate assessment of performance in less than ideal signal conditions, without the need to constantly venture into such environments.
We have recently completed work on a range of new software features for LabSat. These include:
Transmission of wheel speeds via CAN
In addition to simulating wheel speed pulses, LabSat now includes the ability to transmit wheel speeds via CAN when replaying SatGen scenarios. When used in conjunction with a turntable – to simulate a vehicle turning - this gives you a complete dead reckoning test system.
Simultaneous display of GPS and GLONASS signals
The GPS monitor built in to LabSat 2 has now been upgraded to support an optional GPS & GLONASS module. This allows the software to display signal levels for both constellations during replay.

LabSat, the GPS simulator designed and manufactured by Racelogic in the UK, is now compatible with the rapidly expanding Chinese BeiDou constellation.
LabSat allows users to easily record raw satellite signals and replay them on the bench for testing GPS based products. Its low cost and ease of use has led to its wide acceptance by many leading OEM GPS chip manufacturers and integrators. LabSat allows for reliable, repeatable testing and the addition of Beidou support makes it invaluable for any company developing GPS based products.
Julian Thomas, MD of Racelogic Ltd, said "With 14 BeiDou satellites currently operating, and the recent release of the Interface Specification, a lot of our customers have been asking for Beidou functionality. Luckily, due to the flexible nature of the LabSat 2 hardware, we can now offer a simple firmware upgrade to existing users in order to record and replay BeiDou as well as GPS and GLONASS. We will also be supplying pre-recorded scenarios (from China and Europe) with good Beidou visibility."